Ely Refugee Resettlement Campaign is supporting this year's Refugee Week 'Simple Acts' programme which emphasises the importance of meeting together in everyday ways to build connections and community.
During the walk we will encounter the lives of those who came to Ely as evacuees, refugees and prisoners of war.
Join us for all or part of the walk. We will gather for a picnic at the end of the walk. Please bring your own food.
Ely RRC Refugee Week Circular Walk, Saturday 25 June 2022
Start: 11am Riverside Bar and Kitchen, The Maltings, CB7 4BB
End: 1.15 pm Jubilee Gardens (next to the Maltings)
Full walk – approx. 3.1 miles, 2 ¼ hours
10.30 -11am:
Meet outside the Riverside Bar and Kitchen which is next to the River Great Ouse and part of the Maltings building.
The Maltings is a few minutes' walk from the railway station and next to the Ship Lane Car Park.
From the station walk past Tesco's, cross the main road using the pelican crossing, at the mini roundabout take the first right into Annesdale which takes you to the riverside path, follow the path passing the Cutter Inn and Jubilee Gardens. The RBK is on the left.
For Free All Day Parking (so long as you arrive after 8.30am) – Ship Lane Car Park (CB7 4BB) is next to The Maltings. Should that be full, Fisherman's Car Park (CB7 4AT) is a little further along the river, simply walk back along riverside path to the Maltings (if you walk under the railway bridge you're going in the wrong direction).
All car parking in central Ely is free but in other car parks check the time limits.
Walk details:  Approx. 3.1 miles, 2 ¼ hours (mainly flat with one very short uphill section and two short downhill sections)
11 am:
From the Maltings we walk along the riverside path to Roswell Pits lakes, up Lime Kiln Lane and head back towards the city centre across Ely Common, using part of the Bishop's Way. Cut through Springhead Lane and The Vineyards to Archer House and the market place. Along Market Street to St Mary's Street. Cross to Cathedral Green and the Crimean War cannon. Return to the river via The Gallery, the Porta, Cherry Hill Park and Jubilee Gardens.
Click the map below to view the route in detail: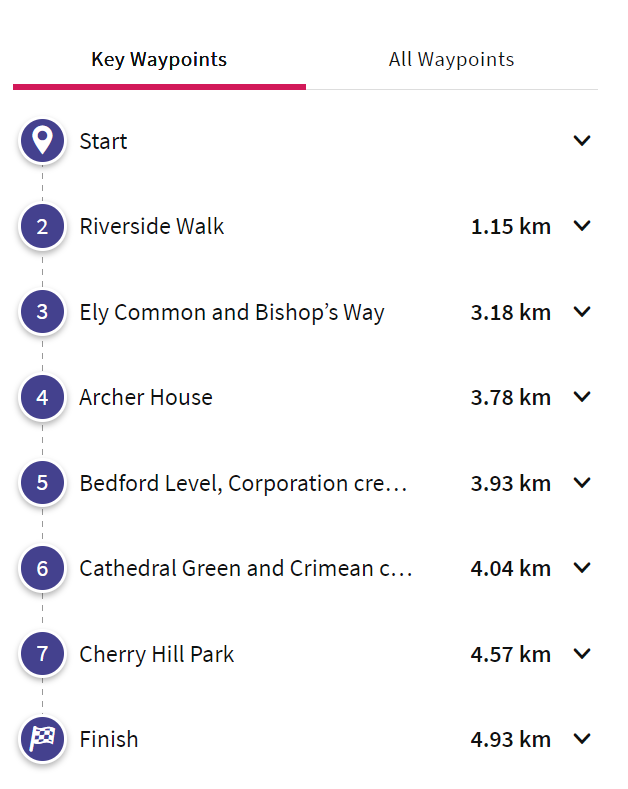 Ely – City centre map for the cathedral city of Ely in the UK